---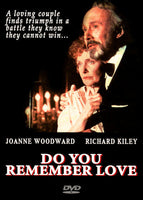 Sale
Do You Remember Love? DVD 1985 (Region 1 Playable in North America - The US, Canada, Mexico, etc.) Color.
Starring: Joanne Woodward, Richard Kiley, Geraldine Fitzgerald, Andrea Barber.

Joanne Woodward stars as a brilliant college professor and poet, struck down in her prime by Alzheimer's disease. Her husband Richard Kiley tries to cope, but is ultimately disheartened by Woodward's degenerating condition. Even sadder is the fact that Woodward, in her cogent moments, is fully aware that she is losing her ability to function. Written by Vickie Patek, this potentially depressing drama has a logically conceived uplifting finale. This landmark film looks at the process by which families can be educated and supported to deal with the impact of the disease, as well what is done for those afflicted. Top-flight performances make this a must-see experience, especially in light of Julianne Moore's recent Oscar-winning performance in Still Alice (a movie which bears a striking--though colder--resemblance to this warm and touching film). 

Following its broadcast in 1985, Do You Remember Love was honored with the Emmy Award for Outstanding Drama/Comedy Special. Vickie Patik was honored with the Emmy Award for Outstanding Writing in a Limited Series or a Special, as well as the Writers Guild Award for Original Drama Anthropology. Joanne Woodward received the Emmy Award for Outstanding Lead Actress in a Drama or Comedy Special Emmy for her role as Barbara Wyatt-Hollis. Additional honors included the Humanitas Prize and the Peabody Award.
"A loving couple finds triumph in a battle they know they cannot win."