---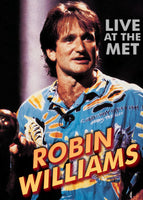 Sale
Robin Williams - Live At The Met (A Night At The Met) 1986 DVD Region 1. (Playable in North America - The US, Canada, Mexico, etc.) Color.
Starring: Robin Williams
 Insanity reigns in this classic standup mix of Robin Williams' rapid-fire humor and voice work, with riffs on the topics of drugs, sex, world affairs and children. References to the events and people of the 1980s are strewn heavily throughout; U.S. President Ronald Reagan, Libyan leader Muammar al-Gaddafi, and President of the Soviet Union Mikhail Gorbachev are central to many of the jokes. Not to be missed!
"In this hilarious stand up comedy, Robin Williams is energetic, witty and again hilarious. It's the number one stand up comedy of all time."