---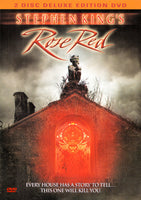 Sale
Rose Red (2002) 2-Disc Deluxe DVD set Stephen King's ROSE RED (Playable in the US, Canada, Mexico, etc.) COLOR Run time approx. 254 min. (4 HRS 15 MIN) Beautifully re-mastered with many, many extras, including: optional English or Spanish subtitles, "The Making of Rose Red", "The Diary of Ellen Rimbauer", storyboard comparisons, Production Design artwork, Trailer, Interactive menus, and Scene Access.
Starring: Nancy Travis, Julian Sands, David Dukes, Emily Deschanel, Julia Campbell, Kevin Tighe, Jimmi Simpson, Kimberly J. Brown, Melanie Lynskey, Matt Keeslar, Judith Ivey, Matt Ross. Written by Stephen King. Directed by Craig R Baxley.
Dr. Joyce Reardon, an unorthodox university psychology professor, leads a team of psychics to the massive and antiquated Seattle mansion known as "Rose Red" in an attempt to record data which would constitute scientific proof of paranormal phenomena. The mansion is publicly thought to be haunted, as at least 23 people have either disappeared or died there and the interior of the house appears to change or increase in size, yet only from the inside. Reardon's team awakens the evil spirit possessing the house, leading to several deaths and the revelation of the mansion's deadly secrets.
"One of Stephen King's best mini series – if not THE best!"