---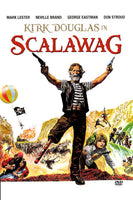 Sale
Scalawag DVD (Region 1 - Playable in North America - The US, Canada, Mexico, etc.) 1973. Color. Widescreen. 
Starring: Kirk Douglas, Mark Lester, Neville Brand, George Eatsman, Don Stroud, Danny DeVito, Lesley-Anne Down
A crew of land locked pirates, led by the aptly named Peg (Kirk Douglas), go in search of buried treasure hidden by the treacherous Mudhook and his twin brother (both played by Neville Brand). They meet up with good natured landowner, Don Aragon (George Eastman), who goes along for the ride with his sister Lucy (Lesley-Anne Down) and a young boy, Jamie (Mark Lester). Along the way, Peg and Jamie form a father son relationship that is put to the test due to Peg's naturally dishonest ways.
First directorial effort of Kirk Douglas, shot in Yugoslavia.
"He's Long John Silver and Jesse James rolled into one!"