---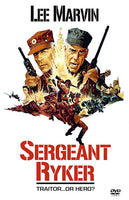 Sale
Sergeant Ryker DVD (Region1 - Playable in North America - The US, Canada, Mexico, etc.) 1968 Color. 
Starring: Lee Marvin, Vera Miles, Bradford Dillman, Peter Graves, Murray Hamilton, Norma Fell, Lloyd Nolan.
During the Korean War, Sgt. Paul Ryker (Lee Marvin) is arrested as a traitor, convicted, and sentenced to hang. His wife, Ann (Vera Miles), charges that the trial was unfair and persuades the prosecuting attorney, Capt. David Young (Bradford Dillman), to conduct a personal investigation. Convinced that Ryker's defense was improperly handled, Young attempts to investigate Ryker's claim that he was sent behind North Korean lines on a secret mission by Colonel Chalmers (who is now dead) to plug a security leak.
Ryker is given a stay of execution and a new trial, but with the only real witness dead, can he prove his innocence against the overwhelming evidence against him?
This superb and moving courtroom drama is top notch, as is the cast which includes: Peter Graves, Murray Hamilton, Lloyd Nolan and Norman Fell.
A must-see for anyone interested in America's "Forgotten War".
The film was originally broadcast on television as "The Case Against Paul Ryker", a 1963 two-part episode of Kraft Suspense Theatre. Released theatrically in 1968.