---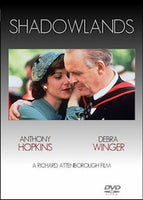 Sale
Shadowlands DVD (Region 1 - Playable in North America - The US, Canada, Mexico, etc.) 1993. Widescreen. Color.
Starring: Anthony Hopkins, Debra Winger, Edward Hardwick, Joseph Mazzello. Directed by Richard Attenborough.

This lavishly mounted adaptation of the play by William Nicholson tells the true story of the doomed love affair between novelist and noted Christian scholar C.S. Lewis and a Jewish-American poet. Anthony Hopkins stars as C.S. 'Jack' Lewis, an Oxford professor and successful author of the Chronicles of Narnia series of children's fantasy novels. A confirmed bachelor, Jack's existence is an inward life of the mind. Somewhat detached from the world, his only social outlet is evenings out at a local pub discussing philosophy and religion with his fellow lecturers. Jack has been corresponding with a bluntly intelligent American woman, Joy Gresham (Debra Winger), who arrives to visit him, with her young son Douglas (Joseph Mazzello) in tow. She tells Jack that she has actually fled from an abusive marriage and plans to divorce, and Jack astonishes friends and family by agreeing to a platonic marriage with Joy so that she can obtain British citizenship. As their friendship deepens and Joy discovers that she has a terminal illness, the relationship between Joy and Jack becomes a genuine romance, and their marriage turns into a real commitment.
"He distanced himself from love as he distanced himself from pain, until one woman got close enough to open his heart to the world."