---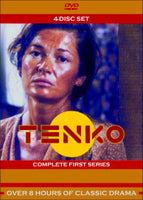 Sale
Tenko: Series 1 1981 (Region 1 - Playable in North America - The US, Canada, Mexico, etc.) 4-Disc Set. Color.
Starring: Stephanie Beacham, Stephanie Cole, Louise Jameson, Elizabeth Chambers.

BBC TV had already achieved worldwide success in the 1970s with wartime period dramas, but 1981 saw their coverage of the events of WWII expand with the arrival of Lavinia Warner's acclaimed series Tenko. Based on real-life experiences, Tenko is the powerful story of a group of ex-pat European women living in Singapore, whose lives are changed forever when they are imprisoned in brutal POW camps. A stellar cast was assembled from the cream of British acting talent; including Stephanie Beacham, Stephanie Cole, Louise Jameson and Elizabeth Chambers while directing duties fell to Pennant Roberts and David Askey. This 4-Disc Set contains all ten episodes of the first series.

Followed by Tenko: Series Two and Tenko: Series Three, and Tenko: The Reunion (a special event movie).