---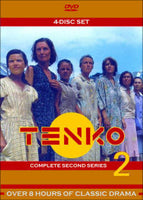 Sale
Tenko: Series 2 1982 (Region 1 - Playable in North America - The US, Canada, Mexico, etc.) 4-Disc Set. Color.
Starring: Stephanie Beacham, Stephanie Cole, Louise Jameson, David Tucker, Elizabeth Chambers.

The second series of the critically acclaimed BBC drama Tenko resumes its bold exploration of the real-life ordeals of European women incarcerated in horrific Japanese POW camps during WWII. Tenko Series 2 begins deep in the stifling jungles of Singapore as the prisoners are relocated to a new camp. Under the menacing command of Miss Hasan, the women band together in order to survive the appalling conditions of the camp - where starvation and suffering are the grim reality.Honest, unerring performances by an all-star cast Tenko Series 2 is a gut-wrenching tribute to female prisoners-of-war. This 4-Disc Set contains all ten episodes of the second series.

Followed by Tenko: Series 3 and Tenko: The Reunion (a special event movie).