---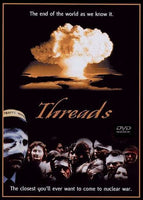 Sale
Threads DVD 1984 (Region 1 - Playable in North America - The US, Canada, Mexico, etc.) Color.
Starring: Karen Meager, Michael O'Hagan.
Hideously plausible when first broadcast in 1984, this BBC TV docu-drama is a terrifying might-have-been about the probable aftermath of a nuclear attack which remains horribly pertinent. Showing the after-effects of World War III on the United Kingdom by concentrating on two Sheffield families linked by an unplanned pregnancy, it illustrates the scientific, political, medical and social consequences of the severing of the many vital connective "threads" that support a Western society. Grim but compulsive viewing, this rare film accomplishes a great deal without the distraction of spectacle, picking through all the melted milk bottles and firing squad traffic wardens to find the human horror at the heart of it all. Simply devastating.
"It's the end of the world as we know it..."