---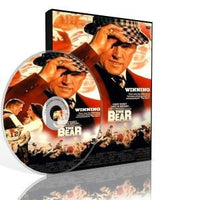 Sale
The Bear (1984) DVD (Region 1 - Playable in North America – The US, Canada, Mexico, etc.) Color.  
Starring: Gary Busey, Cynthia Leake, Carmen Thomas, Harry Dean Stanton, Jon-Erik Hexum.
Biopic about the great college football coach Paul "Bear" Bryant of the University of Alabama. One of the most sought after and hard to find films around, this nostalgic 1984 motion picture film starring Gary Busey is a look inside the life and coaching career of Paul "Bear" Bryant. He won football games at every coaching stop including Maryland, Kentucky and Texas A&M but enjoyed his greatest ultimate success from 1958-1982 at Alabama, culminating with his final victory over Illinois in the 1982 Liberty Bowl in Memphis, TN. "The Bear" is undoubtedly the greatest college football coach of all time. A record six (6) National Championships and 323 wins made him at the end of his career and at the time of his unfortunate death in January of 1983 the winningest coach in college football history. This dramatized biography focuses on Bryant's early career as a player at Alabama and later after returning to lead his Alma Mater, his unparalleled connection to his players and assistant coaches both on and off the playing field. As Bryant once remarked, "I hope they remember me as a winner, because I aint never been nothing but a winner". "The Bear" on DVD. Buy it today, own it forever.  

"WINNING. That was the difference between playing football and playing for "The Bear"."
---