---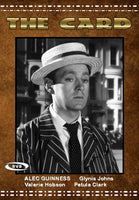 Sale
THE CARD (THE PROMOTER) 1952 B&W 85 min.Restored. Beautiful print.
Starring: Alec Guinness, Glynis Johns, Valerie Hobson, Petula Clark.
A charming and ambitious rogue, Edward "Denry" Machin (Alec Guinness), the son of a washerwoman, believes he must give destiny a hand to rise in the world. Starting early in his youth, Denry maneuvers to get into a top public school. Later, by outwitting his employer, he becomes a rent collector, and eventually mayor. He uses the lovely Countess of Chell (Valerie Hobson) as his patron -- but Denry's ambitions are brought up short by crafty dance instructor Ruth Earp (Glynis Johns).
Directed by Ronald Neame. Screenplay by Eric Ambler from the novel by Arnold Bennett.
"Lock Up Your Dollars and Doughnuts...here's that man again! He's the cheekiest man in town!"