---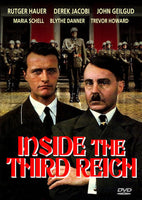 Sale
Inside the Third Reich DVD 1982 (Region 1 - Playable in North America - The US, Canada, Mexico, etc.) Miniseries. Color. 2-Disc Set. 
Starring: Rutger Hauer, Derek Jacobi, John Gielgud, Maria Schell, Blythe Danner, Trevor Howard, John Geilgud, Viveca Lindfors, Ian Holm, Stephen Collins, Elke Sommer, Robert Vaughn.
The Rare Unedited Version of the Epic TV Mini-Series! The corruption of innocence that led an honorable man to become an instrument of Adolf Hitler's reign of terror begins as a young architect is promised immortality in exchange for total devotion.
As a young architect, Albert Speer (Rutger Hauer) witnesses a rousing speech from Nazi Führer Adolf Hitler (Derek Jacobi). Years later, he finds himself with the title of Minister of Armaments, working alongside Hitler himself. Speer gradually rises through the ranks of the Schutzstaffel, designing many important Nazi buildings and developing a close friendship with Hitler. After the Führer's demise, Speer suddenly achieves a new title: war criminal.