---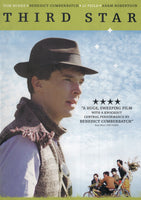 Third Star (2010) DVD Color Widescreen Feature Approx. 88 MIN, "Behind the Scenes" Approx. 4 Min. Region 1 - Playable in North America - The US, Canada, Mexico, etc.
Starring: Benedict Cumberbatch, JJ Field, Tom Burke, Adam Robertson, Hugh Bonneville Written by  Vaughan Sivell Directed by Hattie Dalton
Join James, Miles, Davy and Bill on a raucous road trip with a serious purpose: giving James the time of his life however little time that may be. THIRD STAR wrestles with camping nightmares, surreal moments and rocking good times building up to an emotionally ravaging revelation.
By BAFTA award-winning director Hattie Dalton, THIRD STAR stars Benedict Cumberbatch (BBC's SHERLOCK, AMAZING GRACE, ATONEMENT), JJ FEILD (CAPTAIN AMERICA: THE FIRST AVENGER, CENTURION), Tom Burke (CB STRIKE, MUSKETEERS), and Adam Robertson (WIRE IN THE BLOOD).
A road movie with a heart, THIRD STAR will take you one step further from the past and toward a brave new world of courage, dignity and beauty.
Includes "Behind the scenes of THIRD STAR"