---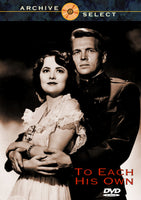 Sale
To Each His Own 1946 DVD (Region One - Playable in North America - The US, Canada, Mexico, etc.) Black & White approx. 120 min.
Starring: Olivia de Havilland, Mary Anderson, Roland Culver, Phillip Terry, Bill Goodwin and John Lund. Written by: Charles Brackett, Jacques Théry and Dodie Smith. Directed by: Mitchell Leisen.
Beautifully digital re-mastered for this DVD release.
During a night watch in London, middle-aged American Jody Norris (Olivia de Havilland) meets the brisk but kind Lord Desham (Roland Culver). Later, Jody recalls her youth when she fell in love with a pilot (John Lund) and bore his illegitimate child after his death in the war. Jody tried to arrange to adopt her own child, but the boy ended up with her best friend, and Jody's efforts to regain custody were fruitless. Years later, when Jody's son arrives in London as an American pilot, Desham provides help.
"Mitchell Leisen has directed the cast skilfully and his fastidious eye for detail is evident in the carefully appointed sets which reflect the various moods and circumstances of the characters." – The New York Times
De Havilland won the Academy Award for Best Actress. Brackett and Théry were nominated for Best Writing, Original Story.