---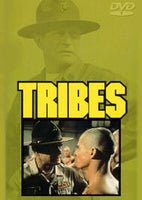 Sale
Tribes 1970 DVD (Region 1 - Playable in North America - The US, Canada, Mexico, etc.) Color.
Starring: Jan-Michael Vincent, Darren McGavin.
Parris Island. 1969. A flower-child is inducted into the Marine Corps. A tough, veteran drill instructor tries to cope with kid - whose hippie philosophies are clearly at odds with the principles of the USMC. His mysticism enables him to withstand the strain of boot camp better than the other recruits, and he gradually wins the drill sergeant's respect. Meanwhile, a fellow D.I. has other, more sinister plans for this untamed jarhead.
"WANTED by the US Marines: for AWOL, insubordination . . . and doing his thing! "