---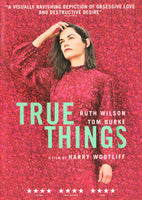 True Things (2022) DVD Color Approx. 97 MIN. Widescreen English with optional subtitles. Region 1 - Playable in North America - The US, Canada, Mexico, etc.
Starring: Ruth Wilson, Tom Burke, Hayley Squires, Elizabeth Rider, Frank McCusker Screenwriters: Molly Davies, Harry Wootliff from the book by Deborah Kay Davies Directed by Harry Wootliff
Bored by the daily tedium of her office job, Kate (Ruth Wilson) is sleepwalking through life when a chance sexual encounter with a charismatic stranger (Tom Burke) awakens her. High on infatuation and the exhilaration of this new relationship, she finds herself inexplicably drawn to this mysterious new man. Hoping he will provide the escape she so desperately desires, she embarks on an emotionally dangerous journey that slowly begins to consume her. With a cast that also includes Hayley Squires, TRUE THINGS is the unmissable new film from acclaimed director Harry Wootliff.
"Ruth Wilson is mesmerizing"★★★★The Observer
"An impressively intoxicating and ultimately empowering story of sense and sensuality"★★★★The Upcoming
"A visually ravishing depiction of obsessive love and destructive desire" The Film Verdict
"Terrific performances by Ruth Wilson and Tom Burke" Variety
★★★★The Times
★★★★Daily Telegraph
★★★★Heat
★★★★Financial Times
★★★★Cinema Perspective
★★★★Film Stories
★★★★Irish Times