---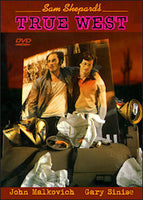 Sale
True West DVD 1984 (Region 1 Playable in North America - The US, Canada, Mexico, etc.) Color.
Starring: John Malkovich, Gary Sinise. Written by Sam Shepard.
A riveting stage performance of Sam Shepard's classic play. Austin, a Hollywood screenwriter living comfortably in suburban Arizona, is interrupted by the unexpected arrival of his prodigal brother Lee, whose menacing demeanor and pugilistic attitude draws Austin further and further into conflict until he must finally engage his brother in an intense psychological battle for his ideals, and perhaps even his life.
"There are parts that will make you burst out laughing and others that are genuinely frightening. It's very hypnotic. Do yourself a favor and check it out!"