---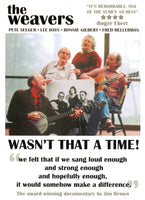 The Weavers – Wasn't That A Time! (1981) DVD Pete Seeger, Lee Hays, Ronnie Gilbert, Fred Hellerman Color Playable in North America (US, Canada, Mexico, etc.) Approx. 72 min.
Starring: Pete Seeger, Lee Hays, Ronnie Gilbert, Fred Hellerman, Arlo Guthrie, Peter Yarrow, Holly Near, Don McLean, Written by Lee Hays. Produced by Jim Brown, George Stoney, Harold Leventhal. Directed by Jim Brown.
This classic documentary traces the success of THE WEAVERS (Pete Seeger, Ronnie Gilbert, Lee Hays and Fred Hellerman) who helped introduce America to its own folk music. Although the group formed to play for labor unions, they became popular when poverty forced them to take a job at a night club. Within months, THE WEAVERS had one of the top-selling records of 1950 – "GOODNIGHT IRENE" – offers for their own television show, and lucrative concert tours. They were abruptly blacklisted at the height of the McCarthy Era because of their left-wing politics. Almost forced out of existence, THE WEAVERS defied the blacklist by playing a historic concert at Carnegie Hall in 1955, which inspired the folk revival. Nearly twenty years later THE WEAVERS got together to play the triumphant farewell concert that is captured in THE WEAVERS: WASN'T THAT A TIME!
Roger Ebert: "It is impossible not to feel a lump in your throat as the Weavers gather once again on stage, and it's hard not to tap your feet when they start to sing. Seeing this film is a wonderful experience. I'd recommend it wholeheartedly to those who don't know about the Weavers. I imagine that Weavers fans won't need any encouragement."