---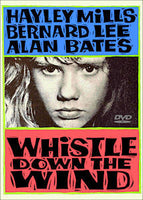 Sale
Whistle Down The Wind 1961 DVD (Region 1 - Playable in North America - The US, Canada, Mexico, etc.) Widescreen. Black & White.
Starring: Hayley Mills, Alan Bates, Bernard Lee. Produced by Richard Attenborough & Jack Rix. Directed by Bryan Forbes.
A true British classic. A man (Alan Bates) on the run for murder hides out at a nearby barn. Through a series of bizarre twists he is discovered by three children (Hayley Mills, Diane Holgate and Alan Barnes), who believe they have stumbled across Jesus and attempt to keep him hidden from the grown-ups. Based on the novel by Hayley Mill's mother, Mary Hayley Bell. This was also the source material for the Andrew Lloyd Weber musical.
"Hayley Mills is excellent, Alan Bates, all the children and the rest of the cast are all terrific. One of the best 1960's British film!"