---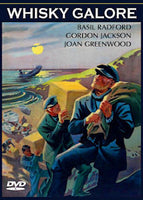 Sale
Whisky Galore! (Tight Little Island) 1949 DVD B&W (Playable in North America - The US, Canada, Mexico, etc.) Beautifully restored with extra features.
Starring: Basil Radford, Gordon Jackson, Joan Greenwood.
Filmed at Barra in the outer Hebrides, Whisky Galore (aka Tight Little Island) was based upon a true incident, the foundering of a cargo ship off the Isle Of Eriskay with 50,000 cases of Scotch aboard. The Scottish islanders of Todday by-pass war time rationing and delight in smuggling cases of their favorite tipple from the wrecked ship. Basil Radford stars as the teetotal English official, who is totally unable to comprehend the significance of whisky to the islanders.
Marvelously detailed and well played, it firmly established the richest Ealing Studios vein with the common theme of a small group triumphing over a more powerful opponent.
This new, digitally restored version includes: a brand new audio commentary, a documentary "Distilling Whisky Galore!", "Whisky Galore! - A Personal History", an interview with Hilary Mackendrick - wife of the film's director, a behind the scenes still photo gallery and wonderful background information from Ealing Studios!
"Whisky Galore! was one of three Ealing comedies released in 1949, and remains by far the sharpest, freshest and most resonant" The Telegraph.
"A Highland fling on a tight little island!"