---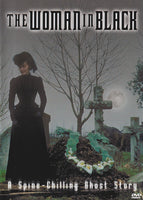 Sale
The Woman In Black DVD (1989) Original Version. (Region 1 - Playable in North America - The US, Canada, Mexico, etc.) Color. Digitally Mastered. Pristine picture & sound.
Starring: Adrian Rawlins, Bernard Hepton, Pauline Moran.
In this spine-Victorian ghost story, Arthur Rudd, a young attorney, is sent to settle up the estate of a dead client: Alice Dablow. When he arrives at the small village of Crythin Gifford, he comes up against strong local prejudice and superstition. During the course of his work he is haunted by the sight of a sinister, mysterious woman dressed in black, who, according to local legend, has put a curse on the village. In saving the life of a young gypsy girl, Kidd becomes embroiled in this macabre bane which haunts the hallways and hollows until he is driven to the brink of insanity. A classic, frightening tale you will never forget! The original.
"A spine-chilling ghost story!"